Should I Wait Until Spring to Sell My Home?
Posted by Renee Adelmann, Bay Area Modern on Saturday, February 26, 2022 at 9:18 PM
By Renee Adelmann, Bay Area Modern / February 26, 2022
Comment
This is an excellent question that local homeowners have been asking me with increased frequency. There has always been a seasonality to our local real estate market and Spring has typically been the best time to list a home for sale—at least in the years before the pandemic-fueled housing boom.
Historically, Spring has been a popular time to sell since buyers tend to come out of winter hibernation and hit the market in droves. Improved weather, combined with school schedules and the absence of major holidays (which inhibit most people from moving due to family obligations), generally means a strong buyer pool which can be advantageous to sellers.
That said, the pandemic has thrown a wrench into the traditional seasonality of the market and the bigger factor we see playing into timing the market right now is inventory. The reason why inventory should play a factor into your consideration of when to list your home for sale is simply a matter of economics. When there are too many qualified buyers chasing too few homes available for sale, it means home prices will continue to rise as long as interest rates (or inventory) don't get too high.
Interest Rates & Buyer Demand
Mortgage rates remain at historic lows and buyers benefit from these low rates since it gives them more buying power and keeps their monthly housing payment lower. The opposite is also true—the higher a buyer's mortgage interest rate, the higher their monthly payments are going to be. A general rule of thumb in the mortgage industry is that a 1% increase in mortgage interest rates will result in a 10-11% decrease in a buyer's purchasing power.
Leading economists believe that signals from the Fed and signs that inflation remains pervasive set the stage for mortgage rates to move even higher in coming months. As rates climb, the potential buyer pool for your home is likely to decline.
San Rafael Inventory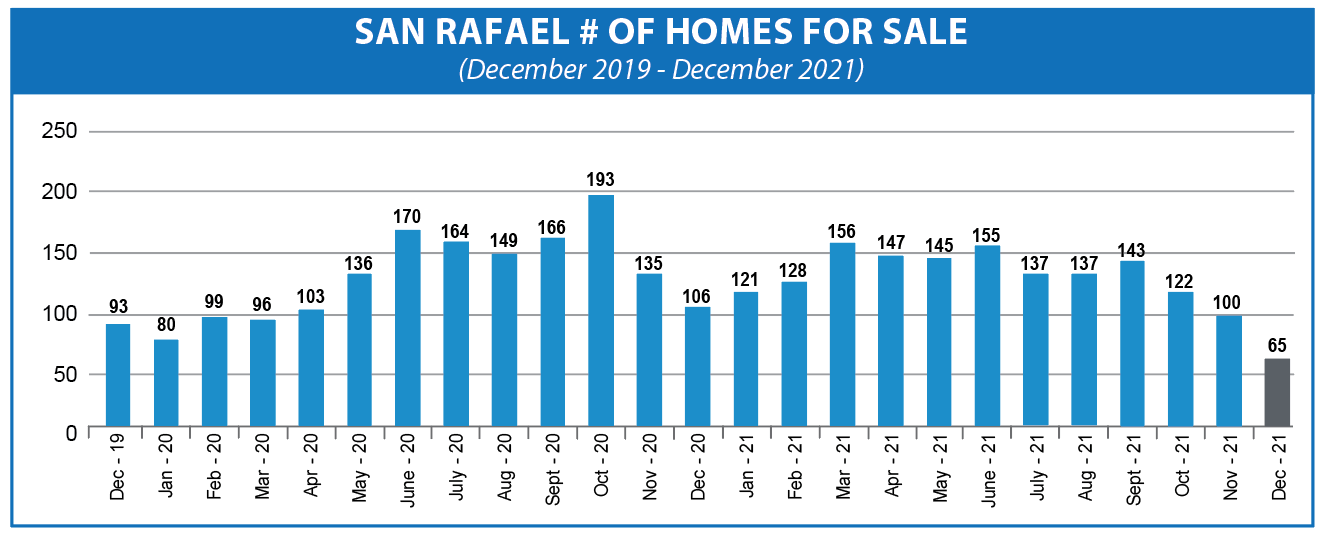 When inventory is low, you generally have more potential buyers seeing (and competing for) your home. This results in a premium price for your home, especially if your home has been well prepared for sale and aggressively marketed.
As a seller, the ideal scenario is having your home looking great and then having it hitting the market when:
• Fewer similar homes in the area are for sale (which means more eyes on your home and less competition), and
• Interest rates are low (which means a larger buyer pool)
Right now we appear to be in that ideal scenario. Interest Rate are low but expected to increase and the number of homes currently for sale in San Rafael is at an all time low.
So, to answer your original question, Spring 2022 should be an excellent time to sell however right now appears to be an ideal time to take advantage of the current market dynamics and list your home for sale.
Whether you are contem-plating the sale of your home now or in the future, I'd welcome the opportunity to assist. My team and I can work quickly to help you prepare, list and sell your home for maximum profit. Contact me at 415-342-4537 to discuss the profit potential of listing and selling your home in today's market.