Pink Owl Coffee - featured Bay Area Small Business
Posted by Renee Adelmann, Bay Area Modern on Monday, March 7, 2022 at 6:40 AM
By Renee Adelmann, Bay Area Modern / March 7, 2022
Comment
Here in Marin County, we are so lucky to have incredible local businesses that help shape this growing community for the better. One face behind these businesses is deserving of spotlight: Joe Carlo, owner and founder of Pink Owl Coffee. Pink Owl Coffee is more than just your run-of-the-mill coffee shop—they offer far more than just coffee and aim to provide a Zen retreat from the pressures of daily life for the local community. All of their coffees are made from organic fair trade coffee beans sourced worldwide, and roasted in-house.
Funnily enough, roasting coffee beans in-house was how all of this got started. Before Pink Owl had been conceived, Joe and his fiancée, Saandra Bowlus, would commonly make their own home coffee roast.
"And then we'd give them away as Christmas presents," Joe said. "That's how we got our hands involved in this. Eventually someone said, 'You should start a business! You roast really good coffee.' So we actually took that to heart and started roasting coffee professionally."
Saandra is a breast cancer survivor and Pink Owl Coffee derives its name partly from the desire to support women in this important endeavor. Now that the two of them co-own and operate the business, that desire is a reality. From the beginning, Joe and Saandra planned to contribute annual revenue to breast cancer research and support for women.
"Saandra, is in remission—she's good," Joe said. "When we started this, we wanted to give back to the community. So 10% of what Pink Owl makes goes toward breast cancer research."
In addition to their San Rafael location (1816 Second St, San Rafael, CA 94901), Pink Owl has a second location in Petaluma (617 E Washington St, Petaluma, CA 94952) and a third in the works. With so much support given to this business across communities, it's more than obvious that Pink Owl has a knack for listening to their customers, and then delivering!
This community support was a necessary backbone during the early stages of the pandemic, when Pink Owl was still a new company. "It's been very challenging, but we've made it," Joe said. "It helps that this is one of the strongest communities I've ever been in. We had to pivot when everything shut down. So we reached out to our community to see what they wanted, and tried to gauge what everyone was looking for. It shaped our business model in a way that worked out for the best."
Let's recircle to something that can't be glossed over—Pink Owl is a craft roaster, and that means quality matters to them.
"We've been working very hard for the last two years to perfect our house roast," Joe said. "When you over-roast like major chains, you have that burnt coffee taste. That's why sweet, sugary artificial drinks are made with that kind of coffee. They're not real and they're not well-crafted."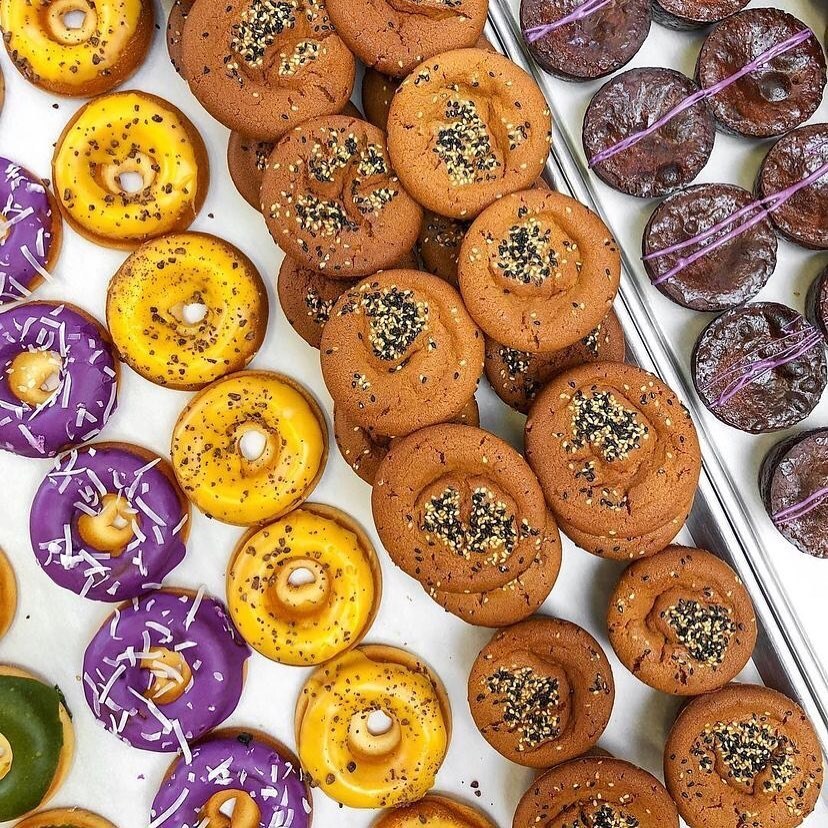 Meanwhile, Pink Owl styles itself after a classic Italian café. "One of our signature drinks is a vanilla lavender oat milk latte," Joe said. "But we also offer signature pastries baked in-house, like the blueberry cinnamon coffee cake and a vegan banana chocolate chip walnut bread. And one of our biggest sellers is mochi."
That's right, Pink Owl has mochi donuts and muffins. For those that don't know, mochi are usually found as cute, round buns made of soft and chewy rice.
"They're from a company called Third Culture in Berkley," Joe explained. It takes Third Culture three days just to make the dough for these delicious mochi products. "They're gluten-free and amazing." Pink Owl sells probably ten to twelve-thousand mochi products a day. "People love them and we sell out all the time," Joe said. Besides coffee, Pink Owl also has chai and a lot of different teas and matcha.
And you can order it all from their app! Search for Pink Owl Coffee in the Apple App Store to start collecting your loyalty points. It also makes ordering a breeze; simply go on the app, place an order, then walk in and pick up your order without waiting in line. Or even have your order delivered straight to your door! And of course be sure to stay plugged in with Pink Owl on Instagram, Facebook and Tiktok @pinkowlcoffee or visit their website at pinkowlcoffee.com.
"To all of our loyal customers, thank you for your support," Joe said. "Pink Owl is here for the long run, we're not leaving. We love to give back to the community and we love the support that our community has given us. Let's continue to grow as a strong, loving community!"
And thank you Joe and the Pink Owl team, for all you are doing for the lovely San Rafael area!