Little Free Library in Marin County
Posted by Carla Chapman on Friday, September 16, 2016 at 6:16 PM
By Carla Chapman / September 16, 2016
Comment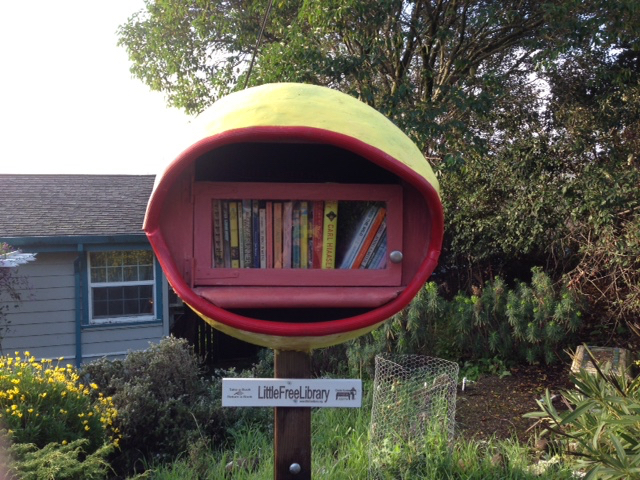 I have been a Little Free Library Steward in Marin County for two years. My husband built a Little Free Library (LFL) in the shape of a bright yellow Pac woman. Located in front of our home in Terra Linda, there is a shelf filled with adult and children's books. The neighborhood kids trade books back and forth. I never know what books will be the most popular ones and I am constantly surprised by what great books show up in the Pac woman.
The Little Free Library movement started in 2009 in Wisconsin. Todd Bol of Hudson, Wisconsin built a model of a one room school house as a tribute to his Mother. He filled it with books and everyone loved it. He built several and gave them away. Each one had a sign that said FREE BOOKS! Rick Brooks of UW, Madison saw this and discussed how this could be a project for furthering goals for common good.
By the summer of 2010, the mission of Little Free Library became clear. While each little free library could have a unique look, all share the theme of sharing books and bringing neighbors together.
There are now 40,000 little Free libraries worldwide. I have provided addresses from The Little Free Library online map for the Terra Linda area of San Rafael:
7 Anchorage Court, San Rafael,94903 (Terra Linda)
650 Kernberry Drive, San Rafael, 94903 (Marinwood). Tthis has a Lego roof and additional Legos to play with and is located near Marinwood hiking)
37 Wallace Way (Terra Linda)
7 Geneva Way (Santa Venetia)
579 Heather Way, San Rafael,94903 (Terra Linda)
This is my Pac Woman box and I love visitors.
We have loads of neighborhood kids and I stock other Little Free Libraries with books so I am happy to get any donations of books you or your children have loved reading
If you own or know of other Little Free Libraries in Marin County, please contact me so I can update my list.
If you have questions about real estate here in Marin County, I am happy to help with your real estate needs!
Carla Chapman, Realtor
415 259-7206