Are San Rafael Home Prices Cooling?
Posted by Renee Adelmann, Bay Area Modern on Wednesday, February 16, 2022 at 1:33 PM
By Renee Adelmann, Bay Area Modern / February 16, 2022
Comment
The buzz is everywhere, the headlines abound: the housing market is poised to cool. But is it? And what does that mean? What trends or factors point to this? We'll try to answer these questions, and then take a deep dive into the data.
What do experts mean by a "cooling" real estate market?
Simply put, it means a decline in housing demand, transactions, and ultimately, prices. And it's certainly fair to predict cooling when the market's been heating up for so long; real estate is cyclical after all. But it's important to keep in mind that even the savviest expert wouldn't place a high bet on any specific set of metrics, especially these days.
Why? We're dealing with unprecedented circumstances like the pandemic, federal stimulus, work-from-home, and other dynamics that don't factor in to normal housing market prediction models. In fact, if you look back to the predictions real estate experts made in March or April of 2020, right when Covid happened, you'll notice that almost nothing that they predicted materialized. With many market dynamics in the Freakanomics category still very much at play, it's difficult to predict future prices with reliable accuracy.
So, to say things will cool off is ambiguous at best, and anxiety-producing at worst. It's a loose term to describe a wide range of guesses. Instead, let's look closer at the numbers, and try to get a sense for what they really tell us.
What would cause this to occur?
It's true that in San Rafael (and almost everywhere in the US) home prices have been rising for years, and then unexpectedly surged during—of all times—a global pandemic. We know inventory shortages and rock-bottom interest rates, coupled with stimulus programs and newfound work-at-home flexibility, all played a role. But no one predicted so much demand and appreciation, or that markets like ours would see record-breaking highs.
So, it's tough to know how or when the important peripheral dynamics (mostly related to Covid) will affect the supply and demand of homes, but what we can do is look at the housing market fundamentals. At the very least, this shows us what the data would indicate under normal circumstances with normal market forces.
One of these important factors is interest rates. The crazy-low-rate party is over; rates are already higher compared to last year, and the Fed plans to raise the discount rate more in 2022. Rates will still be low, but not as low. For San Rafael and other high-price markets, these incremental changes in rates have a bigger impact on payments and home affordability than in lower priced markets. However, rising rates will not force large enough monthly payment increases to screech buyer activity to a halt, especially when demand is still strong. Instead, it will reduce buyer competition and position buyers with a little more negotiation power, driving down prices perhaps by roughly the increased cost of borrowing. Albeit a subjective approximation, this is a fair one and typical of what we see under normal conditions.
The other major factors that affect real estate transactions, such as employment and income, are not just stable but surprisingly strong. The national unemployment rate is trending around 3.9% (a near-historic low), and is doing even better here locally. In December, Marin County's unemployment rate was just 2.7%, the lowest of the 58 counties in California. In San Rafael, the unemployment rate was just 2.5%, indicating one of the most secure job markets in the U.S. Median household income also remained strong in Marin County, trending significantly higher than virtually anywhere else in the country. We know that these dynamics can change, but our current national and local data underscores strength in the housing market.
"In San Rafael, the unemployment rate was just 2.5%, indicating one of the most secure job markets in the U.S."
Finally, new construction is an important contributing factor to the state of resales. Beyond the inherent challenges of building a new home in San Rafael or Marin County, the supply chain and COVID concerns for workers has put additional constraints on building homes. This, of course, limits the market's supply side to homes that already exist, increasing competition for them and thus prices.
the Bottom Line
We don't know how all the repercussions of Covid will affect the foundational economic factors which in turn affect housing. There are too many variables and unknowns. But we do know what those fundamental metrics look like today, and how the market normally reacts to them. Today, those factors indicate price stability and perhaps further growth, with the chance of a slight price decline later in the year as interest rates rise.
Zooming in on San Rafael's Housing Market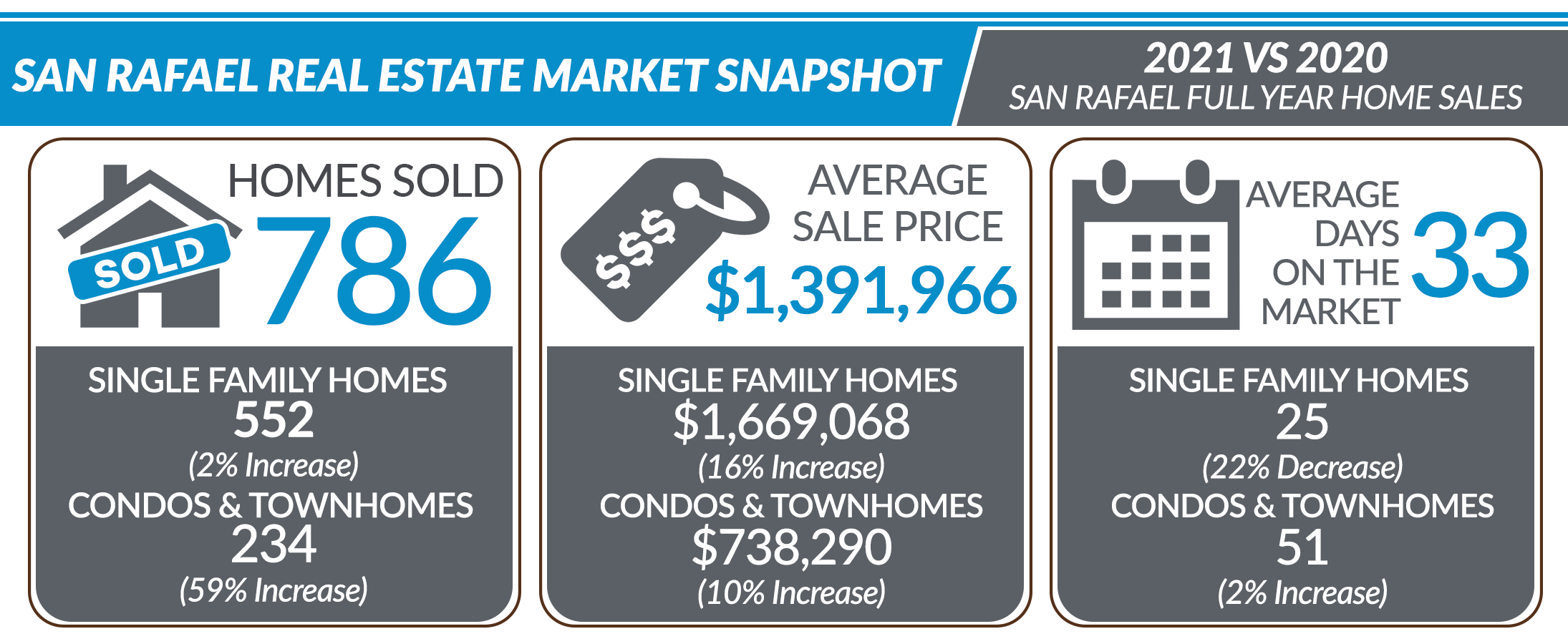 SAN RAFAEL HOME SALES
In 2021, a total of 786 homes sold in San Rafael, with 552 Single Family Homes (SFHs) and 234 Condominiums and Townhomes (Condos) changing hands. While SFH sales remained stable throughout much of 2021, there was a dramatic 59% increase in condo sales throughout the year.
While the year-over-year jump in condo sales was startling, it's important to remember that we experienced a significant slowdown in Condo demand during the early stages of the pandemic. Buyers were seeking properties with more space for living and working from home, while also providing more separation from neighbors. But by 2021, prices for SFHs had increased dramatically, suddenly becoming out of reach for buyers who held off on purchasing in 2020. Condos became an attractive alternative, and as Covid vaccines became available, buyers had less discomfort with Condo living than in 2020. These factors led to a spike in demand for San Rafael Condos, creating a sharp rebound in sales.
The average sale price of Single Family Homes (SFHs) in San Rafael increased by 16% from 2020 to 2021, to $1,669,068 (from $1,437,679 in 2020). Condo prices increased 10% to $738,290 in 2021, compared to just $669,547 the prior year. On average, SFHs took 25 days to sell (22% faster than in 2020) while Condos took an average of 51 days to sell (about 2% slower than the year before).
ZIP CODE 94903 REAL ESTATE
395 homes sold in San Rafael's 94903 zip code in 2021, at an average price of $1,187,747. The average price for a SFH increased 15%, to $1,482,671. The volume of SFHs sold declined 5% year-over-year (242 sold in 2021 compared to 255 in 2020). On average, SFHs took 21 days to sell, selling 30% faster than in 2020 (a 30% reduction in Days on Market).
The volume of Condo sales increased 47% (153 sold in 2021, 104 sold in 2020), and the average sale price increased 13% to $721,265. Condos took an average of 55 days to sell, which is 10% slower than 2020.
ZIP CODE 94901 REAL ESTATE
In 2021, 391 homes sold in San Rafael's 94901 zip code at an average price of $1,598,275. The average sale price for SFHs increased 16% year-over-year to $1,814,579, and the number of SFHs sold increased 8% (310 sold in 2021, compared to 286 in 2020). SFHs sold 20% faster in 2021, with an average Days on Market of 28.
Condo sale volume surged 88% (81 units sold in 2021 compared to just 43 in 2020), and the average sale price increased 4% to $770,448. Condos took an average of 44 days to sell, a 15% faster sale cycle than in 2020.
Considering a move? Have questions?
I'm here to help. As the #1 Realtor for homes sold in San Rafael since 2007, I know the market well. I am tuned in to local buyer behavior and the broader forces at play in the market. I'd love to walk you through the proven process my team and I utilize to help prepare, stage, price, list, market, and sell your home for maximum profit and with minimal stress. I'm also eager to answer your questions or give you an updated assessment of your home's value, without any cost or obligation. Give me a call directly at 415-342-4537.